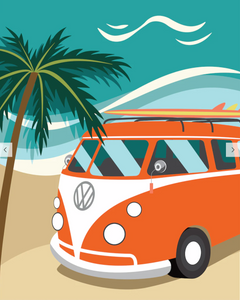 Ready your paint brushes and prep your paint stations, Pink Picasso Kit's Colorful Destinations collection is ready for take-off!
From New York to Seattle and some fan-favorite places in between, we're bringing a sense of wanderlust straight to your home. No passport required 🎨✈️
So say goodbye to your favorite coffee shop destination mugs, and hello to an even cooler keepsake—a hand-painted memory garden for your walls!
West Coast Best Coast
Hey, West Coasters! Your favorite mantra is now its very own paint-by-number kit. With a palm tree, sandy shores, dreamy ocean water, and a VW van to boot, nothing captures West Coast pride as thoroughly as our West Coast Best Coast kit.