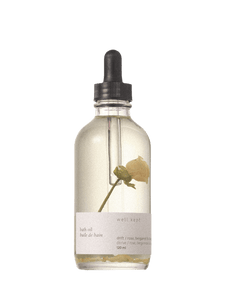 made of coconut
 oil, lavender, geranium, ylang ylang and frankincense essential oils, and a seasonal flora
120ml — Drift
description
When you're craving simplicity, our drift bath oil is an easy way to enjoy the benefits of aromatherapy. Scents are layered over a coconut oil base that helps hydrate your skin. A heady blend of lavender, geranium, and ylang-ylang essential oils is both soothing and calm.
free of parabens, harmful chemical ingredients, and synthetic fragrances
a heady blend of essential oils is carried by coconut oil for added skin-nourishing benefits
drift bath oil comes in a glass bottle that looks good in your bathroom and wrapped up as a gift
all are hand-poured in the studio
Our all-natural bath oils work on their own or can be added to our salts, milk, or bubbles. Invert the bottle once to re-blend all the essential oils then add one or two droppers full into your bath. The aroma intensifies with each drop.